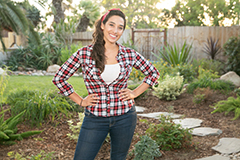 Sara Bendrick
DIY Network's Build It Like Bendrick and Lawn & Order
I'm a landscape designer by trade. I was born & raised in San Diego, California, and started at a young age with a passion for art, nature and an appreciation for anything living.


I've always had a passion for doing as opposed to watching. When I was young I would sew doll clothes out of my old T-shirts, draw, paint, and dig in the dirt. My whole life has been about trial & error, figuring things out as I go. When I was a little older I decided I wanted chickens, so I read a book and got to it, luckily that was a success! Unlike my attempt at a 5000 Red-worm worm farm.


I studied at Cal Poly San Luis Obispo and received my Bachelors of Science in Landscape Architecture. As a college student I immediately got my hands dirty in the field working different landscaping gigs, including being a forewoman for a landscape maintenance company. After college I honed my residential design skills by working for a design/build firm and eventually when out on my own and started my own landscape design business.


I love that I have the opportunity to combine nature with a built environment to create a sense of place. I have always been interested in horticulture & art, and designing landscapes allows me to combine both of my passions. I feel very fortunate to have a career that can combine artistic expression & environmental awareness with purpose & function.


As a landscape designer with a passion for being involved with my projects, hosting the DIY Network's 'I Hate My Yard' was the perfect fit! I love to interact and help homeowners realize the opportunity in their exterior spaces. With a DIY attitude my crew and I tackle tough backyards with the help of the homeowners to keep the budget in check. I guide the homeowners through the renovation process by tasking them with fun, creative and aesthetically pleasing projects to take back the yard once & for all.
Sara will be on the Fresh Ideas Stage:
Friday, September 20 at 2:00pm
Saturday, September 21 at 12:00pm
Sunday, September 22 at 12:00pm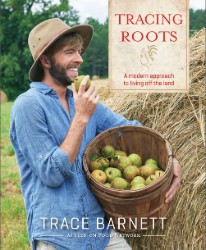 Trace Barnett
A Modern Approach to Living Off the Land Barnett's debut book, Tracing Roots, focuses on taking a modern approach to living off the land. A culinary journey through the seasons, the recipes emphasize using ingredients at their peak. Each chapter highlights seven growing seasons, features an engrossing collection of specially curated heirloom recipes with an Appalachian flair unique to the Alabama region where Barnett grew up. Instructional guides to beekeeping, raising chickens, planting, and foraging, in addition to more than 100 recipes, Tracing Roots simplifies homesteading tasks with a modern flair ideal for the urban or suburban gardener. Sumptuous photography transports readers to the rustic simplicity of North Alabama and marks the introduction of a refreshing new voice in cooking.
Trace is also known from The Bitter Socialite, a culinary and lifestyle blog that features creative and unique content about living a beautiful, well-balanced life while juggling a tight budget and a hectic schedule. Readers find easy, seasonal recipes, DIY projects, entertaining ideas, gardening tips, useful household how-to's, decor, and much more. Trace was a finalist on Food Network's The Next Food Network Star and Comeback Kitchen. Entertaining tips, recipes, and DIY projects have also been featured in Good Grit Magazine, Birmingham Magazine, Alabama Magazine, Food Network Magazine, Foodnetwork.com, Southernliving.com, Stylehomepage.com, AL.com, Alabama Gardener, Tennessee Gardener, Virginia Gardener, Oklahoma Gardener, Mississippi Gardener, Kentucky Gardener, Arkansas Gardener, Georgia Gardener, and Louisiana Gardener.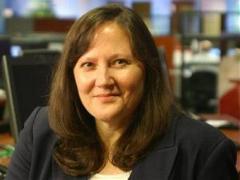 FAYE PROSSER | WRAL-TV SMART SHOPPER
Join Faye for a money saving workshop that will teach you how to save on your grocery expenses each and every week. Faye Prosser is WRAL-TV's Smart Shopper and author of The Smart Spending Guide. This workshop will change the way you shop and teach you to save more than you ever thought possible!

Check the complete Fresh Ideas Stage Schedule for Faye's workshop times and much more!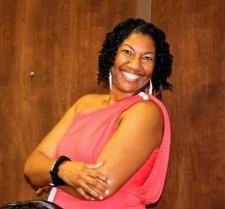 Angela Griffin
"Growing a Healthy Lawn in the Piedmont"
Come and learn from a NC State Extension Master Gardener Volunteer of Wake County on best practices for establishing, maintaining and revitalizing your lawn. The presentation will focus on the aesthetics, environmental benefits, maintenance, care and selection of warm and cool season grasses including the importance of soil preparation and best timing for fertilization and weed control. Common problems found in turf grasses and possible solutions will also be discussed.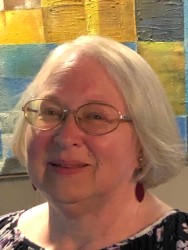 Cindy Chappell
"Flowers for All 4 Seasons"
Yes you can have colorful flowers blooming in the Fall and Winter and in your garden throughout the year. Come and learn from a NC State Extension Master Gardener Volunteer of Wake County about landscaping with flowering perennials, shrubs and trees for seasonal interest and fragrance.
"Bulbs for Year Round Flowers"
We all know about Daffodils and Crocus as spring bulbs but there are Crocus that bloom in the fall too! Bulbs can be a very easy and inexpensive source of flowers and color throughout the entire year and many bulbs come back year after year in our Piedmont area. Join a NC State Extension Master Gardener Volunteer of Wake County to learn about using bulbs in your landscape.