Exhibitor Spotlight: PSNC Energy
We're thrilled that
PSNC Energy
is coming to the Southern Ideal Home Show! For more than 75 years, residential, commercial and industrial customers in the north central, Piedmont and western areas of North Carolina have relied on PSNC Energy for safe, reliable natural gas service.

Before you visit the PSNC Energy Team at
Booth #2516
from September 22-24 at the North Carolina State Fairground, get to know them a little better in our brief interview below.
Describe your products and services.

For more than 75 years, residential, commercial and industrial customers in the north central, Piedmont and western areas of North Carolina have relied on PSNC Energy for safe, reliable natural gas service. Natural gas can increase the value and comfort of your home while helping lower your overall energy costs:
• Costs less to operate natural gas appliances than other appliances.
• Costs less than propane without the hassle of having to refill tanks.
• Allows for faster, more precise cooking.
• Increases the value of your home.
• Provides warmer heat than other types of energy.
Headquartered in Gastonia, NC, PSNC Energy is committed to providing superior customer service, supporting a clean energy future for our state, and making a difference in lives of our customers through sponsorships and employee volunteerism. Experience the personalized service of working with natural gas experts! PSNC Energy also offers non-regulated appliance sales, installation, maintenance and repair programs, and has three showroom locations: The Natural Gas Store is located in Asheville, Kannapolis and Raleigh.
What are you best home and garden tips for the season?
Jason Ramey, supervisor of sales support, answered the rest of the questions. He says: Take care of next year's garden weeds now. Plant a thick cover crop of mixed greens (mustard, turnip, collard and kale) to keep weeds from taking over during the winter. Till them under in the spring to add a nitrogen boost to the soil. By mulching around the plants with leaves removed from the lawn you help yourself and your garden at the same time. The leaves eliminate the chore of weeding and prevent dirt from splashing up on the leaves, making them easier to prep for cooking. Leaves also add organic matter to the soil, keep the soil warm so that you can enjoy them most of the fall and winter months, and avoid going to waste in the landfill.
What are your featured items this season?
PSNC Energy's 0% financing on all natural gas logs are always the go to item this time of year. However, we are starting to see more interest in outdoor fire features that add warmth and ambiance on cool evenings. Fire is just magical. It is one of those things every generation has relied on for a basic human need. All my memories of people gathered around fires involve smiles, laughs and connecting with each other on a basic level. It will always be part of my patio entertainment.
What are your home or garden pet peeves?
Propane grills at a home with a natural gas meter! It's more convenient to install the "spare" (and usually empty) tank on your grill while your food and guests wait?
What is the strangest client request you've ever received?
A blind man asked me to teach him how to operate his gas logs, and after about 20 minutes, he had it down pat! We had some great laughs while doing this and it was an awesome growth opportunity for me. I will never forget explaining the remote control's functions, how many button presses and beeps to expect at each stage of operation, etc. After I repeated the whole thing several times, he turns to me, smiling, and says, "I can tell when they're on because there is heat coming from the fireplace. I got that part." What a laugh we had! I've never forgotten that day.
What is your favorite part about the home show?
New ideas that fit our lifestyle. Let's face it: We are not California, New York or Chicago. We are unique for the same reasons those other places are, and it's okay! "Southern Charm" is what makes us unique and the Southern Ideal Home Show keeps this in the mainstream of what is popular in other parts of the country.
Any additional company info you'd like to include?
PSNC Energy offers:
• Installation for new natural gas piping and appliances.
• Repair programs to keep your appliances working for the long term.
• Financing options that can be added to your natural gas bill.
PSNC Energy appliance sales, installation, maintenance, and repair are not part of the regulated service offered by PSNC Energy and are not in any way sanctioned by the North Carolina Utilities Commission. There is no advantage to customers of PSNC Energy if they buy these products or services from PSNC Energy. A customer does not have to buy such products or services in order to continue to receive the same safe and reliable gas service from PSNC Energy.
The Southern Ideal Home Show takes over the North Carolina State Fairgrounds September 22-24, 2017. With hundred of home improvement experts you're sure to find exactly what you need. Don't miss out!
Get your tickets NOW!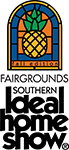 NORTH CAROLINA STATE FAIRGROUNDS
SEPTEMBER 22-24, 2017.
Sep 18, 2017, 18:54 PM