How to Use this Exhibitor Kit
Welcome to your Exhibitor Kit! Please use the following links to learn more about what you need to do to prepare for the show.
Important Documents & Information:
Exhibitor Manual
Everything you need to know about move-in, move-out, booth regulations, and more!

Must-Do Checklist
Reminders for Booth Quality and Exhibition Guidelines

Decorator Manual
Order your booth carpet, chairs, tables, and more!
Pre-order discount deadline is August, 29 2019
Show Map - Fairgrounds Southern Ideal Home Show
Electrical Services
Basic electrical service is complimentary with your booth space; however, you must order at least two weeks prior to show in order for it to be activated. Email HannahL@MPEshows.com with your booth number, company name, and whether you need basic or advanced electrical (will confirm receipt).
Place your order by September 6th!
Internet Service
The Wifi at the Fairgrounds is free of charge. Connect to the State Fair Vendor network and use the password: TBD - Available closer to the show
Parking
Parking is free and unlimited
Looking to hire? Post your job position on our website for increased exposure.
Click here to be redirected to the job posting form.
Move-In:
Tuesday, September 17, 2019 | 12:00pm - 5:00pm
Wednesday, September 18, 2019 | 8:00am - 5:00pm
Thursday, September 19, 2019 | 8:00am - 5:00pm (drive-in access cannot be guaranteed after 12:00pm)

Hours subject to change.
Show Dates & Hours:
Friday, September 20, 2019 | 10:00am - 8:00pm
Saturday, September 21, 2019 | 10:00am - 8:00pm
Sunday, September 22, 2019 | 11:00am - 6:00pm
Move-Out:
Sunday, September 22, 2019 | 6:01pm - 10:00pm
Monday, September 23, 2019 | 8:00am - 3:00pm

All exhibits must be completely cleared from the show floor no later than 3:00pm.
HAVE YOU SET UP YOUR EXHIBITOR LISTING?
CLICK HERE for instructions to submit your Exhibitor Listing, highlighting your company's presence in the show for our attendees both before and after the show.
If you need technical help or want to make changes to your listing, please email Jen Shaw at
jens@MPEshows.com
.
EXHIBITOR WEB BUTTON
Advertise your participation on your website with these digital web buttons.
CLICK HERE for information about our NEW opportunity for you to advertise the shows and earn cash while doing it!
For your customize discount code web button AND banner for you consumers, email your W-9 to Hannah Lewis HannahL@mpeshows.com
Website for W-9 https://www.irs.gov/pub/irs-pdf/fw9.pdf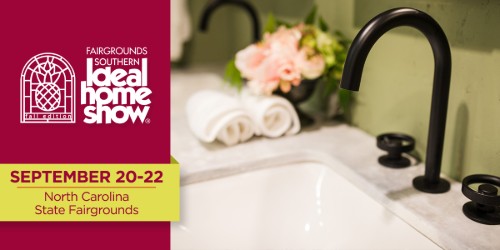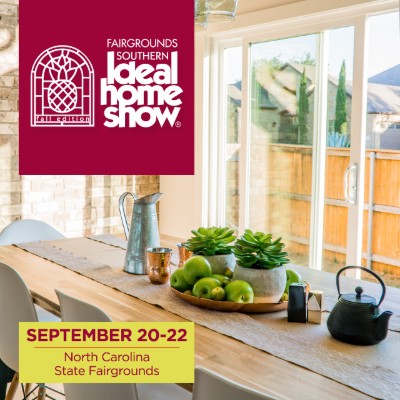 Below are the instructions for uploading the attached customized ticket button and banner.
Save a copy of the button and/or banner (right click & save the image to your computer)
Webpage: Have your developer upload the button or banner to your website
Once the photo is uploaded, have your web developer link the photo to appropriate blue link below.
Email: Insert the image as a PICTURE in the email or newsletter
Once the button is inserted, right click on the picture and select "Link"
Under the "address" field copy and paste the blue text below, then hit okay
Fairgrounds Southern Ideal Home Show: https://raleighfairgroundshomeshow.com/
Food & Beverage Sampling Guidelines
All food sales and related sampling must be approved by the NC State Fairgrounds and Marketplace Events. Concession style food service is not permitted (prepared foods that can be consumed immediately). Pre-packaged food and beverages (candy, chips, bottled water, etc) may not be given out as promotional items. Pre-packaged food and beverages (packaged for preparation and consumption at a later time) may be sold and sampled, pending approval of the NC State Fairgrounds and Marketplace Events show management in accordance with the guidelines below.

- Sample being offered must be a product being offered by the exhibitor
- Beverage Sample Size: 2 oz. or less
- Food Sample Size: 1 square inch or less and fit in a standard 1 inch condiment cup
- Approved sampling must be offered in compliance with any regulatory requirements from Wake Environmental Services (919) 856-7419
- Any approved sample containing alcohol will be subject to the current State Fair Alcohol Policy

Email ChiaraRB@mpeshows.com if you plan to sample or sell any kind of food or beverage no later than 30 days prior to the show for review, approval, and sampling guidelines.



For assistance on show-site:
Show management is located in the Show Office in the Jim Graham Building near the exterior doors that face the Expo Center (look for signs). The Southern Exposition Services Desk (carpet rentals, forklift service, freight deliveries, etc) is located in the hallway outside of the Show Office in the Graham Building. For assistance with power, water, or hardline internet, please visit the Show Office and we will contact fairgrounds maintenance on your behalf.



SHOW OFFICE PHONE NUMBER: 919-839-4681
Fairgrounds Vendor WiFi Password: Roll3rco@st3r
AREA HOTELS
Hyatt Place
2 mi. from Fairgrounds
Shuttle Service available to NC State Fairgrounds based on availability

Amenities: Oversized suites with sitting area, dry bar and an attached King or Double sleeping room. Each suite features State-of-the-art media and work center, high definition 42" plasma television that integrates with laptops and other electronic devices, a video and music entertainment system, plush Hyatt grand bed, and upgraded bathrooms with granite vanity area. Complimentary parking for individuals and buses, complimentary high speed wireless internet service, complimentary hot breakfast buffet, complimentary fitness center and outdoor swimming pool, personal voice-mail, Hyatt Gold Passport Points. The hotel offers complimentary parking for 400 cars, saving up to $18.00 per day, complimentary transfers to and from RDU airport, saving up to $55.00 for your guest and the hotel is Recipients of the 2013 JD Powers & Associates Hotel Guest Satisfaction Award for Best Upscale Property.

710 Corporate Center Dr
Raleigh, NC 27607
Phone: 919-233-2205 or 1-800-492-8847
Comfort Inn & Suites Crabtree
5 mi. to Fairgrounds
Amenities: Complimentary hot breakfast, parking and wi-fi. Hotel is within walking distance of ample restaurants and shopping.

6209 Glenwood Ave
Raleigh, NC 27612
Phone: 919-782-1112



Ramada Raleigh
0.4 miles from the Fairgrounds
Amenities: Complimentary hot breakfast buffet for guest, complimentary wireless internet, 24 hour deluxe business center, full service restaurant and lounge, room service, outdoor pool, fitness center, 100% non-smoking rooms, pet rooms available upon request, based on availability ($25 pet fee per stay).

1520 Blue Ridge Rd
Raleigh, NC 27607
Phone: 919-832-4100