Exhibitor Spotlight: Light Visions Landscape Lighting
Aug 22, 2018, 14:48 PM
We're excited to have Light Visions Landscape Lighting joint us at he Fairgrounds Southern Ideal Home Show. Lite Visions is not a lighting franchise, but a locally owned lighting design and installation company. They pride themselves on delivering the best LED Outdoor Fixture, workmanship and customer service to our clients in Raleigh and the surrounding areas. They do custom outdoor lighting to both residential and commercial properties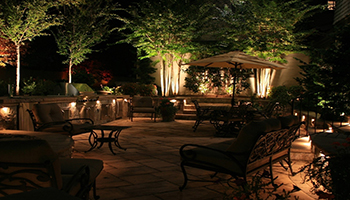 Before you see the Light Visions team at booth #2129 get a sneak peek at what they'll be bringing to the show by reading our brief interview below.
Describe your products and services.
Outdoor Landscape and Architectural Lighting Design and Installation done right by someone who worked in the concert and live music industry for over 30 years as a lighting technician and lighting designer.
What are your best home or garden tips for this season?
As a lighting designer, I work with homeowners in and around the Raleigh NC area to determine how you enjoy your outdoor space, particular features or a structure that you would like to highlight with outdoor lighting. What you like most about your homes architecture, specific trees or plant you like. A walkway or path you would enjoy or use more if it was illuminated. A favorite pond or water feature. Features you love most in your outdoor kitchen or along your hardscaping that would look great with outdoor lighting.
What are your featured items this season?
I am installing a new series of lighting this season designed by an architectural company. The lights are groundbreaking in the fact that not only can you adjust the beam spread and angle, but you can also adjust the wattage output and color temperature of the lights to the right temperature no matter what type of surface you are lighting. These fixtures give off a very soft subtle lighting effect. Too many outdoor lighting companies tend to over light a home. As always I am offering a discount to anyone who signs up for a lighting quote at my booth during the show. My company is different I am different in the fact that I am the lighting designer and installer.
What are your home or garden pet peeves?
People who only light items one sided and have no design knowledge or thoughts of the customer seeing this flat lighting effect when they pull up to their home, but not being able to see it from the home itself. Example a beautiful Crepe Myrtle or Riverbirch tree light from the front with only one light. A tree should always be lit up 3 dimensional to bring out it's structure and beauty.
What is the strangest client request you've ever received?
I get people who don't understand what I do and sometimes will get requests to install floodlights over a garage.
What is your favorite part about the home show?
I love meeting people and talking to new potential customers, it seems alot of people are building outdoor kitchens. I try to give alot of advice to people remodeling or building as I want to make sure they are prepared as they deal with the builders, electricians stone contractors etc. to make adding their outdoor lighting as easy as possible for them. I am working right now on a project at Hyco lake near Roxboro on a amazing outdoor kitchen for a customer I met at the last home show.
Any additional company info you'd like to include?
I feel I bring something different to outdoor lighting as I come from a concert lighting background, from working with local bands such as the Embers right out of school to local recording acts Glassmoon and Nantucket to working huge arena concerts such as Kool and The Gang, Joan Jett, Alan Jackson, Tim Mcgraw, Dan Fogelburg, 3 Doors Down, Whitney Houston to the Christmas sensation Trans Siberian Orchestra. I still do a few concerts now and then and also work at the Memorial Auditorium venues when I can. I do maintenance on older existing systems as well as LED retrofits. I am a member of the Association of Outdoor Lighting Professionals a small group of professionals who are some of the best in the business.
The Fairgrounds Southern Ideal Home Show will be taking over the North Carolina State Fairgrounds September 21-23, 2018. With hundred of home improvement experts to speak with, like the team at Light Visions Landscape Lighting, this is a must attend event. What are you waiting for? Get your tickets now!