Faye Prosser: How To Cut Your Grocery Bills In Half
Sep 20, 2018, 13:31 PM
Guests at the Fairgrounds Ideal Home Show can learn how to get their houses in order - and that includes getting your financial house in order. Savvy shopper Faye Prosser returns by popular demand to the Fresh Ideas Stage to share her time-tested tips on how to get more for less. Here are her basics on how to cut your grocery store bills in half, from her blog smartspendingresources.com.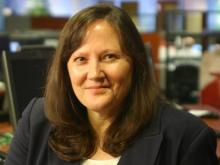 Want to buy much more for less? Imagine filling your cart with your favorite groceries, but only paying a fraction of the total cost. By mastering these essential techniques, every shopper who buys groceries can get the most out of their hard-earned money.
1. Learn the art of couponing.
Smart shoppers know, without question, that using coupons wisely is the greatest money-saving technique when it comes to buying groceries. They know how, when and where to use those little pieces of "paper gold" and they know just where to find the best coupons for the products they prefer to buy. Their coupons are well-organized and accessible so they don't ever miss an unadvertised sale. Smart shoppers pay for a good portion of their groceries using coupons and save more than 50% off their weekly budgets each and every week.
2. Compare apples to apples.
How do you know whether something is really a bargain just because it is on sale? By developing a Price Book, you are able to compare the price per unit of one size package to another. This allows you to compare the 200-ounce box of warehouse club bran cereal to the 20-ounce bag of the same type of cereal from the grocery store. Smart spenders know the surprising news that often the smaller container is less expensive per unit than the bulk container when used in conjunction with coupons and sales.
3. Gain leverage from sales flyers.
By reviewing the sales flyers that stores issue every week, you can plan your weekly menu, decide where to shop, determine what to include on your grocery list, and choose the best money-saving coupons to use at the store. Smart spenders realize that the key to the greatest savings is purchasing the best sale items listed in the weekly flyers and then using coupons for those items.
4. Be a proud card-carrying member.
Sign up for the frequent shopper rewards cards at the stores you shop. Without them, you won't be offered the sale prices or special incentives and you may lose out on thousands of dollars in savings a year. Many stores will even mail great money-saving coupons to members throughout the year. Smart shoppers take advantage of the sale prices by using their rewards cards every time they shop.
5. Refuse to be overcharged.
Many grocery stores carry 30,000 or more items. It is not hard to imagine that there may be a price mistake or two at the register. Before you leave the store, thoroughly review your receipt to make sure you weren't overcharged. If you discover an overcharge, head straight to customer service and explain the error. Many stores have a price scan guarantee, which means that you will receive the entire cost you paid for the item and get to keep the product. Yes, this means you will take home the product for free! Smart spenders never leave the store without reviewing the receipt and requesting the price scan guarantee, when applicable.
6. Enjoy delayed gratification.
Yes, it's just what you were thinking. Rebates and cash back sites. You buy an item that offers a rebate or cash back refund, fill out the form exactly as required or scan the receipts and after a short delay, you get your money back. If you are thinking that it doesn't sound so difficult, you are right! Surprisingly, many people don't take advantage of the amazing rebates available for everything from beef to toothpaste to pasta. Smart spenders recognize that the savings opportunities are huge with the cash back sites.
7. Stick to your strategy and avoid the tactics.
Do you smell the fresh cookies baking in the deli? Did you taste those free samples of cereal when you walked into the store? Welcome to the world of store tactics. Their job is to make money marketing the products they sell. Your job is to steer clear of the tactics and stick to your grocery list. Don't be enticed by the sale signs when you know something isn't a good deal. Don't go to the store hungry and don't impulse-shop (unless it's a good unadvertised buy, of course!). Smart spenders come prepared to shop for the items that will save them the most money and they avoid the clever methods designed to persuade you to part with more of your paycheck than you should.
These aren't the only money-saving techniques used by the shopping experts, but they are the basis for the very best buys. Learn more household savings strategies from Faye Prosser at the show. She appears on stage on Friday, September 21 at 3 p.m. and 5 p.m.; Saturday, September 22 at Noon and 3 p.m. and Sunday, September 23 at 1 p.m. and 3 p.m. And naturally, she's offering a money saving promo for show tickets! Enter code "FAYEPROSSER" at raleighfairgroundshomeshow.com to save on show admission.